It was Halloween last weekend and although we'd organised a little get together not many turned up due to seasonal birthdays and such. Still, here's a picture of my witchy outfit: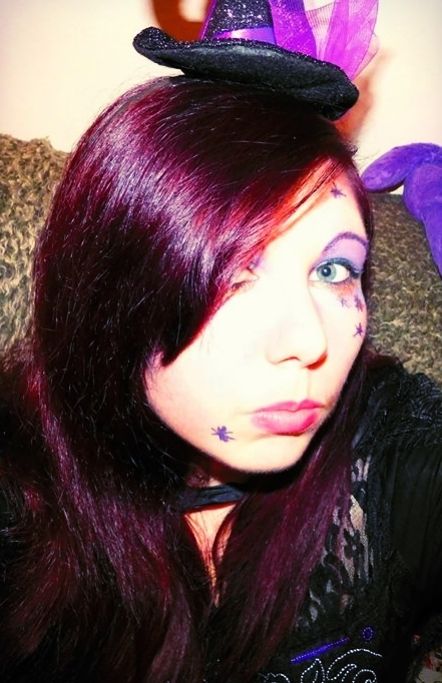 Despite that, we had a good time. Of course, the next day was spent readying our bags for our long trip to the Lake District. And there was also the fun of packing the cats off to my parents (something they did not enjoy at all).
In fact, they were pretty unhappy about the whole thing. Barley cried all the way (and all the way back when we brought him home). And Salem managed to claw his way out of his cat carrier and ended up sitting on the backseat the whole way there.
To be honest, he was much happier on the backseat. He didn't try to escape or yowl once he was there. Instead, he sat quietly and watched everything pass him by through the window.
If it wasn't for the fact that we were afraid of braking hard or any number of other reasons why he might have been hurt whilst loose on the backseat, we would have allowed him to travel that way when we brought him home with us yesterday.
Anyway, we set off early on Monday morning. Traffic wasn't too bad and we made it to Barnard Castle where we'd hoped to visit Eggleston Gardens as a pit stop on the way. Sadly, the gardens and tearooms are not open on Mondays (something that Mr Bear had neglected to check when he'd decided on this route) so we headed into the town instead.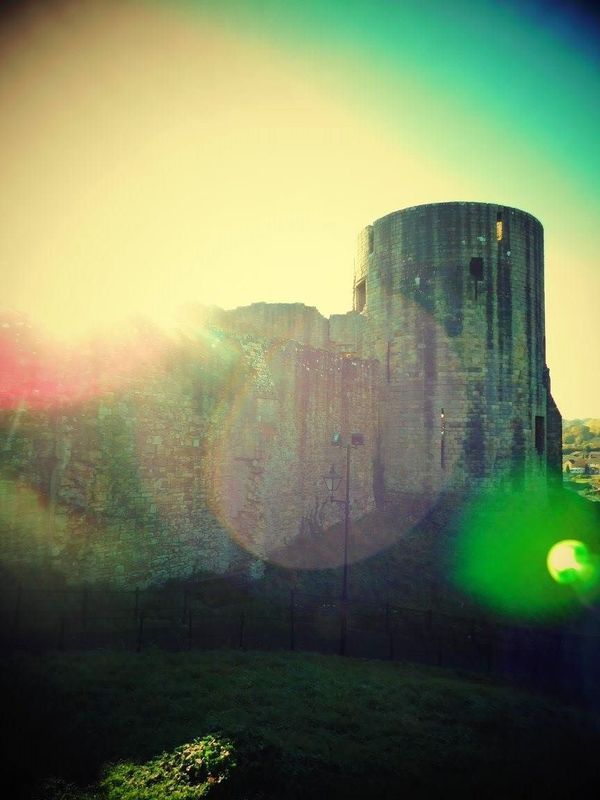 Despite the growing fog, we managed to get a few nice pictures of the castle, which was originally named after the Bernard that had owned it. We also had a wander around the shops, spotting a couple of cool antique places. There was also somewhere called Niche (check out their website) that had some really lovely stuff. Bear and I were particularly jealous that they didn't have a shop in our home town.
Anyway, we set off again, deciding to stop at Penrith for food and drink. And I'm so glad we did.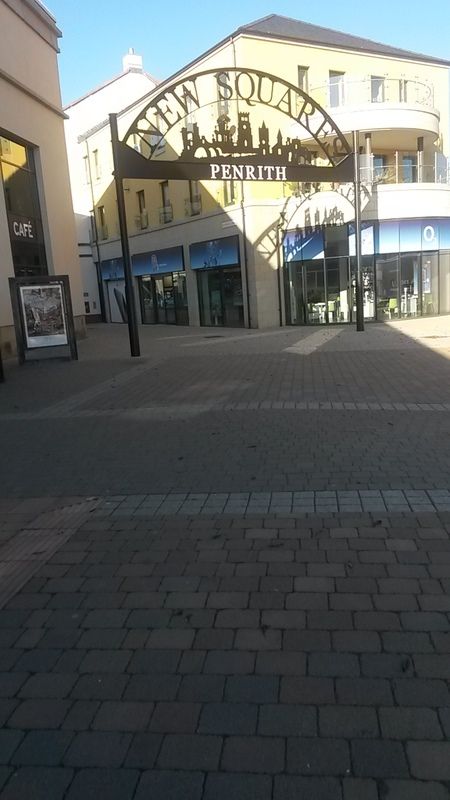 After a short wander about to take in all the sights and shops, we settled on eating at a place called The Lounge. I have to recommend that if you are passing through Penrith then you should try their pulled pork nachos. The nachos were clearly handmade and absolutely amazing without being too filling as a shared starter. In fact, everything about it was great, including the service.
Big thumbs up!
Although Howard wasn't impressed with my cocktail.
After that we drove the rest of the way to Keswick. About ten minutes drive from the town centre was the cottage we'd chosen to rent (Deer Close Cottage). I have to say that it was beautiful as well as being quiet and snuggled just onto the back of the woods. In fact, one morning I woke up to a pheasant on the outside wall less than a metre away!
We were even left a bottle of wine and some sweets in a beautiful welcome tray: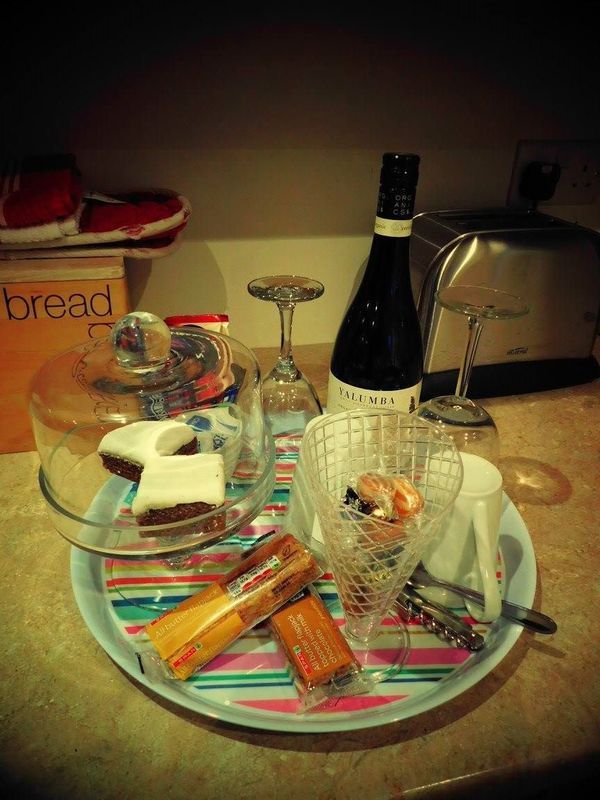 And on our first morning we awoke to a slight break in the fog for this fantastic sight: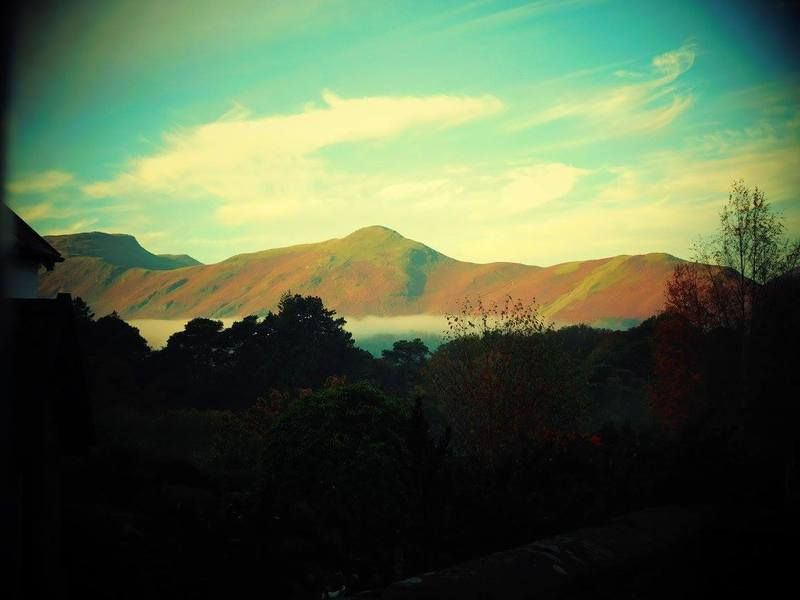 Of course, we didn't drive all that way just to hang around a cottage all day and night. So our first adventure was a short walk around the woods followed by a drive over to the nearest animal park (The Lake District Wildlife Park) where they had all sorts of cuties, including a beautiful red panda called Meili!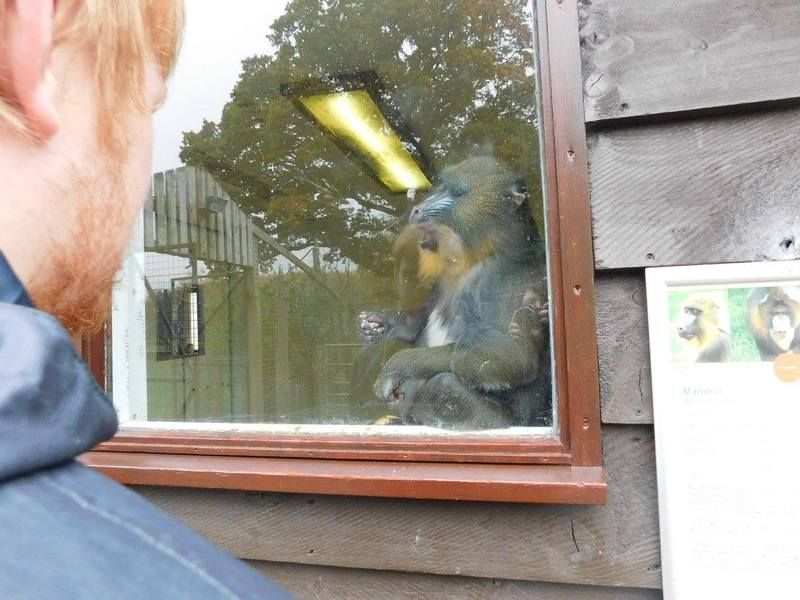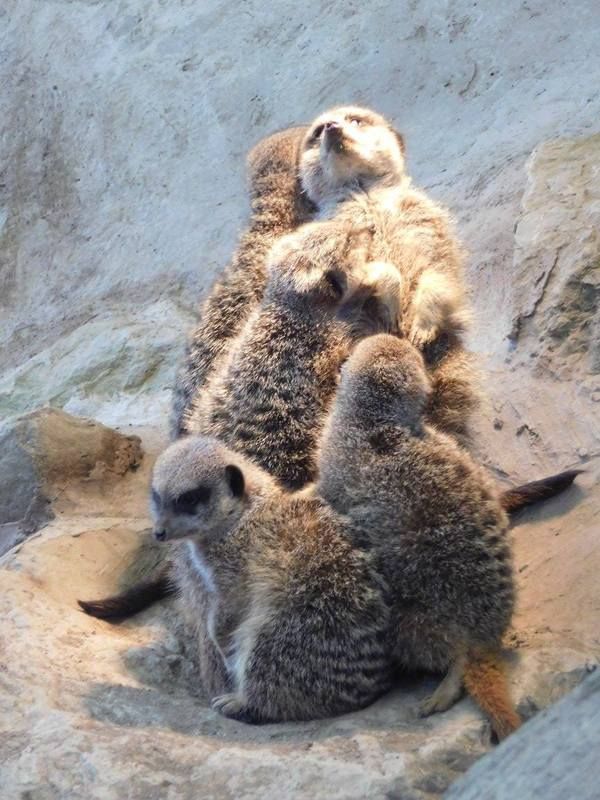 After the lovely (if a little wet) walk around the wildlife, we headed back into Keswick and enjoyed a nice meal at a place called Bar Metro before heading back to the cottage for a quiet night in. We spent the next day wandering around Keswick where Howard fell in love with two shops (The Orchid House & Middle England). And we also visited the Pencil Museum!
They have the worlds largest colour pencil and a display that shows how they managed to secrete maps and compasses into pencils during the war. We also dined at a nice pub called The Pack Horse where we saw lots of cute dogs, before we stumbled back to the cottage in the dark.
On our last full day, we drove down to the South Lakes Safari Zoo. They had so many more animals here and some of them were even free to roam around so we could get as close as possible! And you were allowed to hand feed certain animals – except the lemurs. As Howard Bear had taken a shine to the lemurs at our last visit this upset him a little, but we didn't want to risk the warnings on the signs that they would become jealous of each other and try to fight for our attention!
But here is a little taster of what you can see if you decide to visit: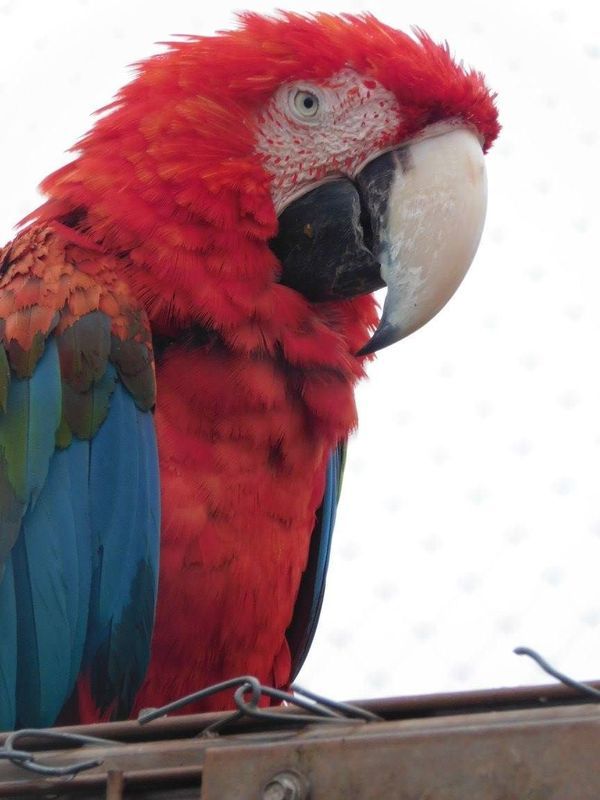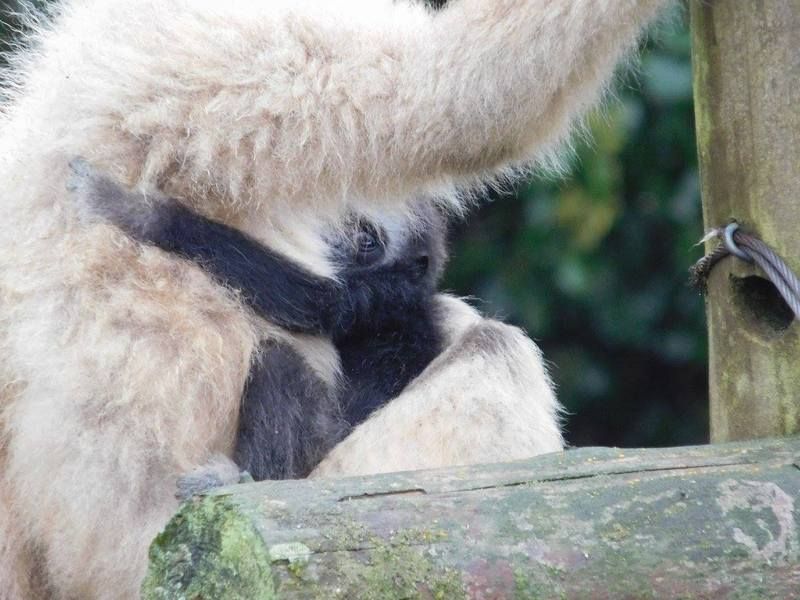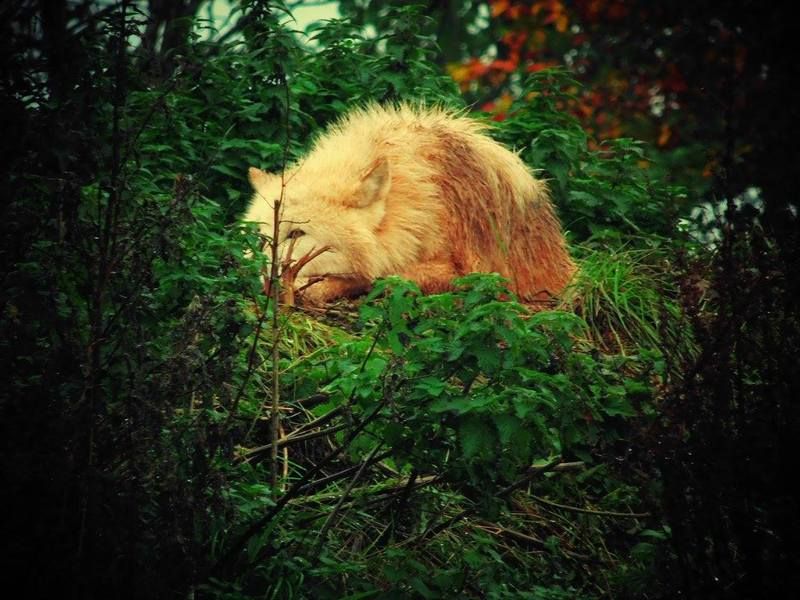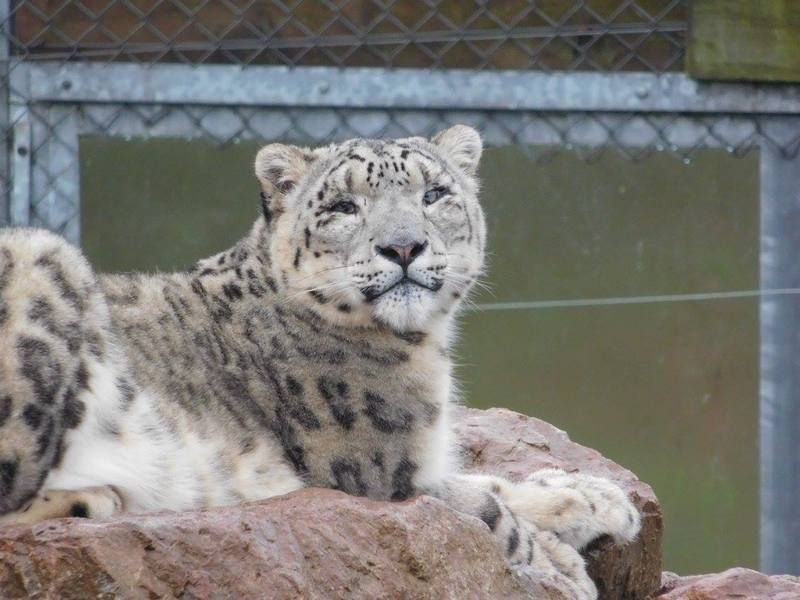 After that we stopped off in Windermere and I forced my darling other half to take me to the World of Beatrix Potter (which I think he secretly enjoyed in the end). It was so wonderful, but I only managed to take photographs on my phone, I'm afraid, and they don't show as much as I'd like them to. We did want to go into their Peter Rabbit garden, but sadly we arrived at the same time as a very heavy rain cloud. Suffice to say, even two days later, the shoes I'd been wearing (early nibbled by a marmot) are still not dry!
Our last meal was at the Village Inn Bar & Grill. I have to say that, for food quality, this was probably the best meal of our whole trip. I had honey and orange glazed ham shank with a hot and sour pineapple and chilli salsa. The salsa wasn't terribly hot (which was great because I'm not particularly good at eating spicy things) and the glaze on the ham was delicious. There were chips to accompany it, but, if I'm honest, I concentrated most of my efforts on the ham as it was truly delicious.
Unfortunately, such an exquisite and well portioned main course left no room for pudding – so disappointing! But they do box up pudding if you so desire. Had we not been about to go to the Beatrix Potter exhibition, I feel sure that we would have opted for that.
We returned home yesterday having accomplished an awful lot in the short stay we had. We only wished we'd been able to stay longer at Deer Close Cottage. It was so delightful and Keswick was so lovely (even despite the fog and the rain). I only hope that we'll be able to go back there some day!
| [Did you enjoy this post?] |
| [Why not leave a comment or check out my books?] |