It is with great delight that I get to reveal the cover for Baying For Blood! This is the amazing second instalment of my Indigo Skies series. Don't you think that the cover is amazing?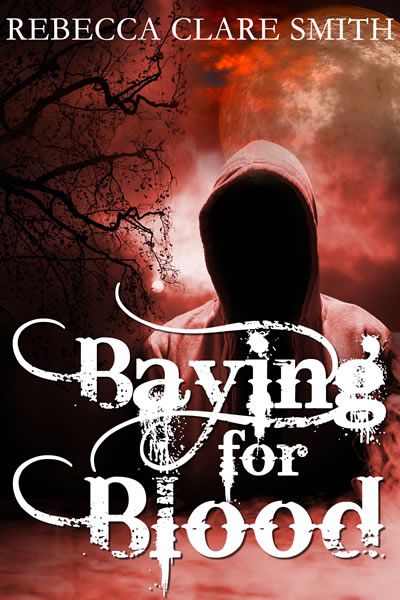 Superb, right?
My amazing friend (and a brilliant author) Gayla Drummond created the cover for me. I am in awe of her talents. Not to mention, completely astounded and happy with her creation!
As always, Baying For Blood will be released via Katarr Kanticles Press. This time we are aiming for a December 5th release date, which means you'll be able to snag Baying For Blood in time for Christmas!
BUT!!!
Just to make it juicy sweet, I'm going to give you guys until the 5th to get the prequel, Preying On Time, for 35% off at Smashwords. Amazing or what?
That means you can download it for any version of eReader or PC or your mobile phone! You have so many options, it's unbelievable. All you have to do to get Preying On Time at 35% off is put in this coupon code when you get to the Smashwords checkout:
And please, please, please don't forget to leave a review after you've read it so I can hear your thoughts. Remember: your reviews are one of the best ways you can support an author!
You have until the 5th December 2014!
And just in case that isn't enough incentive to be excited for the return of Indigo Skies, here's the prologue of Baying For Blood. Enjoy!
---
Prologue: Midnight Hunt
Running. Running.
Faster. Chase.
Kill.
The world tumbled over and over in a mishmash of greys and greens and browns. Noise flared and dipped, raucous and buzzing. The confused stream of images blossomed into a dull ache that permeated my head. Travelling fast and spinning. Then I was still, yet it felt like my body was continuing to move. I could have fallen asleep on a children's roundabout for all I knew.
Fingers dragged up to cradle my head as I groaned.
Worst. Hangover. Ever.
That after-drink feeling was bad enough but it was the vague memory of teeth and feathers and adrenalin that made everything worse. I tried to piece it together as the now all too familiar ruckus of stirring senses poured in. Sound and light were always the first to arrive in this morning carnival of misery.
Blood. Everywhere the smell of blood. I squeezed my eyes shut; the pulse in my forehead about ready to explode as I was battered by this newly attuned sense. Nausea tumbled my belly. I couldn't remember drinking. I couldn't remember why I'd even be bleeding. The heady scent filled my nostrils again. My stomach growled, recognising the raw life essence as a source of food. And that recognition was all it took to complete the horrible jigsaw.
My eyelids snapped open, pupils thinning as they adjusted to the sudden light of the room. The duvet clung to me, sticky with scarlet residue. I closed my lashes again and remained deathly still on the mattress as if hoping the world would melt away.
Violet was going to be pissed.
She wasn't quite embracing this whole 'my brother has superhuman strength and wants to eat the face off small fluffy creatures' thing that I had going on right now. To be honest, I wasn't really embracing it either. The eating living beings was just something that seemed to happen without my control.
Bravely, I squeezed open a lid and took stock of my surroundings. On a positive note, at least it was my bedroom. On a less positive note, it was soaked in blood and what I could only assume were chicken feathers judging by my 'dream' and the strange scrawny foot that lay between me and the door. Even if it was only my room that I'd trashed, Violet was still going to kill me. Moreso for the chicken massacre than anything else.
Red liquid was slathered everywhere. Clumps of feathers stuck in pockets of violence. Had I really eaten the thing or just mauled it to death? Fingers explored my lips where yet more plumes clung helplessly in the sticky surrender of life's essence. I swallowed.
My stomach churned unhappily. The doctor had said my body was still adjusting and, even though I craved it, digesting raw meat would properly take longer than my wolfish appetite appreciated.
The cacophony of noise, like several televisions turned on together at full volume, finally faded into separate distinguishable streams; a luxury I could have done without. Clattering struck up at the front door forcing me to slam my hands over my ears. The entrance was at the opposite side of the house to my room, but with these new powers it made no difference.
Without even getting up, I could tell it was the neighbour. Her wailing felt like cocktail sticks being thrust into my eardrums. She was screaming about a dog and some chickens and I didn't know what else, but I was trying to block it out.
Not that it mattered. Hearing her or not hearing her, the outcome would be the same. Violet would know exactly who deserved to be in the dog house for this.
---
Don't forget to check out your discounted copy of Preying On Time for 35% off with the coupon code at Smashwords:
Remember: you have until the 5th December 2014!
Then Baying For Blood will be released and we'll find out who's afraid of the big, bad wolf…
| [Did you enjoy this post?] |
| [Why not leave a comment or check out my books?] |