I'm not endeavouring to be a copycat, but the awesome Icy Sedgwick recently wrote a post entitled 'What Do I See In The Mirror?' in response to another blogger. I thought I would write one too as Icy's post was so brilliant when I read it. And, after all, she did leave it with these fateful questions:
How about you? What do you see in the mirror?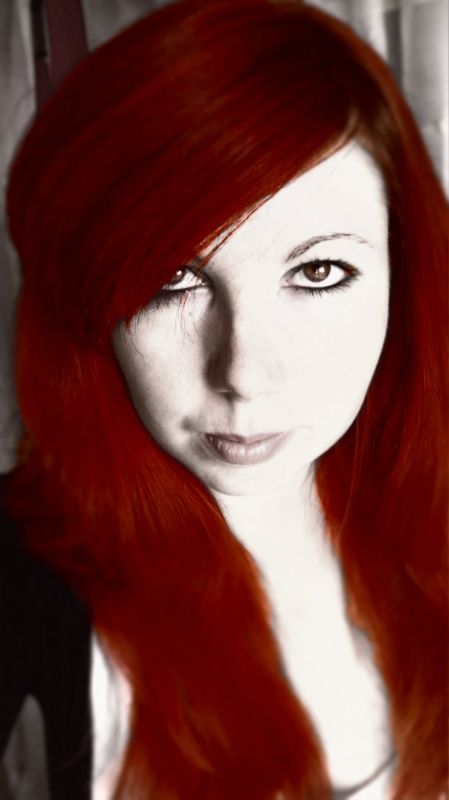 So this is me. On a good day, anyway.

I'm 5' 5" and a half. The half is important, obviously. I always wanted to be fairly tall, but apparently I'm sticking at this mark. I don't wear heels to bump that up for the simple reason that I can very rarely walk in heels. In fact, I find it much easier to walk in them after a couple of drinks.
My hair used to be right the way down my back to the tops of my hips, but, like Icy, after a break up where I was told I 'didn't even care about myself or do anything with my appearance'. I got a bit angry (as you can imagine), had it all chopped off and dyed the beautiful red colour I'd always hungered for.
I can't say I've regretted it, either. I love the colour it is now and it means that my hair feels and acts as if it is more conditioned than it used to. I can even tell when it needs dying because the original colour brings with it a static layer of wiry frizz. Not to mention my hair already appears to be losing any kind of pigment at the age of twenty-four. Re-dying it recently revealed lots of completely white hairs.
I don't know. I must be stressed or something.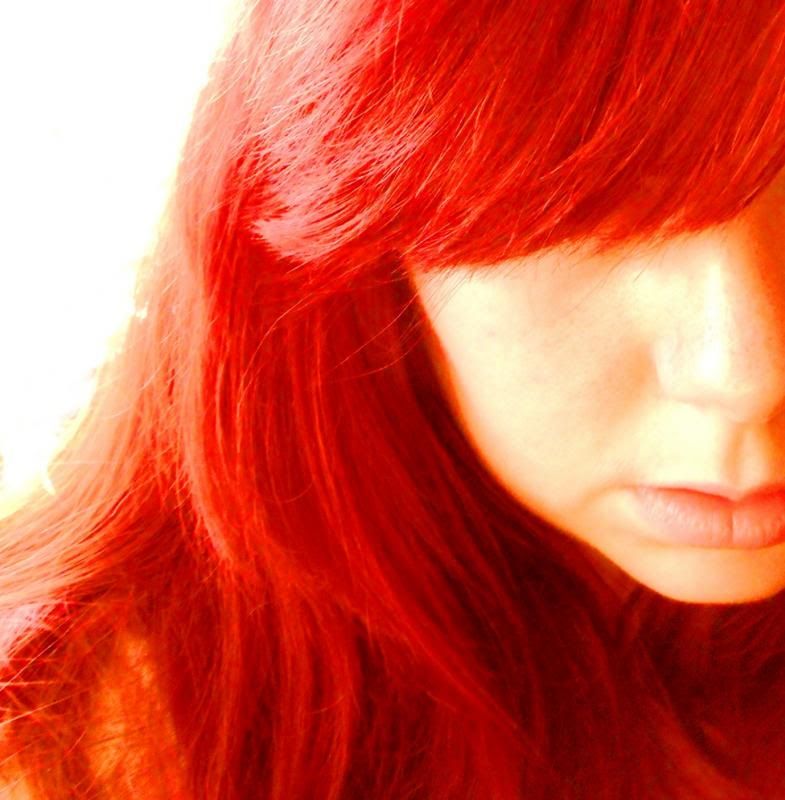 Most of my portrait photographs are taken with the light behind the camera because I nearly always have bags under my eyes. If I catch the light just right it hides those. Not to mention I probably have the palest skin on the planet. Even when I go into the sunshine.
I don't tan and I don't burn either. Like a ghost.
But all that means is that any blemishes I do have are very very obvious, which is great. And I have quite a few of those on my arms etc because I have a skin condition that used to be ridiculed and such when I was younger. Part of the reason why I'm not keen on wearing clothes where I show off my arms or legs most of the time. It's not as bad as it used to be, but it's the best it's going to get.
My lips are a little odd, I guess. The lower is much larger than the top one, but it looks fairly in proportion due to having a rather small mouth anyway – despite the sound that comes out of it! I find that if I wear darker lipsticks I look a bit like I'm over doing it so I try not to.
Besides, I was always told that if you do wear make up then you should highlight one major feature and I always choose my eyes in that case. Mostly they're blue-grey in shade, but, as my other half has noted, they tend to change with my mood quite a bit.
Sometimes they're more grey or more blue and sometimes they even stretch towards being green.
I have particularly thick, dark lashes so it's rare I wear real mascara. Mostly it's just clear if I put any on. And if black mascara is applied all it does is make panda eyes after only an hour because my lashes are quite long too. They're not very good eyes, though. Without my contact lenses they're a bit rubbish, actually, but with them I'm good enough to be a sniper, according to my optician.
The contacts were an addition my mum had been trying to get me to use for years, but they only came about due to the same guy my hair was lopped off in rebuff to. They're good, though. They make it much easier to go outside in the rain and actually be able to see what I'm doing without steaming up near anything hot, too. That's not to say that I don't still pause before going near hot things in habit.
My nose is a different story. It's very much an inherited trait if you look at my dad's side of the family. I've never been too keen on it; it looks broken and always has. Of course, I've never actually broken it. It's just built that way. It's not a squashy nose, either. It's very solidly built and I can wiggle it like a rabbit. Sadly, this is something I taught myself to do when I was little and adored The Tale of Peter Rabbit.
I also have a bit of an obsession with plucking my eyebrows. It's a little bit compulsive after I was told by so many people they looked awful without shaping and plucking. So I check them out every day. It's not really a vanity thing either. It's just self conscious. People have always made me acutely aware of how I don't really fit in in certain ways and this is one of those things that has made me feel more like I fit in.
I can't change my skin condition but I can create these other changes.
Anyway, like Icy said…
How about you? What do you guys see when you look in the mirror?
| [Did you enjoy this post?] |
| [Why not leave a comment or check out my books?] |