@LadyAntimony gave me another blog award over on her blog Thoughts, Musings and Broken Promises! This one is called the Liebster Blog Award.
I'm so glad she chose to give me the award amongst so many other brilliant bloggers and want to thank her such a lot.
And now it is my turn to select some of the excellent bloggers that I know. Sadly, I can't nominate @LadyAntimony because she nominated me and I'll try not to nominate the same people as her, too.
So here goes…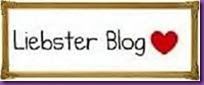 1. Leif G.S. Notae
@Vignirsson
Leif G.S. Notae – Writing More With Less
A flash fiction writer & all round nice guy.
2. Icy Sedgwick
@IcyPop
Icy's Blunt Pencil
A dark lady with a penchant for penning ghosts & cavaliers.
3. Ren Thompson
@Ren_Thompson
Ren's Corner
A great blogger, writer & tweep to twitter with.
4. Shannon Mayer
@Queryaddict
Wringing out Words
A writer of urban fantasy & paranormal romance & great blogger to read from.
5. Emilia Quill
@Emilia_Quill
My Imaginary Beings
A flash fiction writer who has just started her blog & therefore deserves a special mention.
I hope you check out the lovely people whom I've named for this tremendous award because they truly deserve it.
| [Did you enjoy this post?] |
| [Why not leave a comment or check out my books?] |