In a fantastic interruption to my usual posting schedule, we're going American today with a guest post from the brilliant mystery author Bex Aaron.
This is just one of the many stops on her week long blog tour to promote her new ebook in the Independence Day series. The first book in the series is already online to download here – and it's for free!
Bex Aaron – Mysterious mystery writer.
From the above picture, it's almost hard to believe that Bex would have the murderous instinct to write such scintillating murder mysteries…
Tangled Webs is only the second book in her enthralling series. It received its release yesterday on Smashwords and Amazon ready for you to download and enjoy. But don't just take my word for it, the wonderful lady has allowed us to take an exciting sneak peek with an excerpt right here!
And so, I shall hand over to the author herself who can show you exactly why you should snap up a copy!

The Independence Day book series is a wild romp of lust, secrets, lies and murder that's left readers clamoring for more. The second book of the series, released Monday, picks up right where book one left off – with the personal lives of Haven Park's best and brightest crumbling around them in the aftermath of a murder. Below, you will find an overview of the story, along with choice excerpts.
Can you figure it out?
"Something is wrong with this town…"
On the surface, Haven Park seemed to be the perfect picture of Americana. Nestled in the heart of Wyoming, its 517 residents were close knit, hard working and God fearing people. The city had never known major scandal, and the last violent crime committed was over ten years ago. Normal, right and honorable were upheld and all seemed to be quite harmonious…until the night of July 4, 1966, when the walls came closing in and the secrets could not be kept any longer.
It started with a murder. Carol Mathison, a lifelong resident and the only daughter of retired police chief Stanley Rogers, was found strangled in the park on the morning of July 5, leaving the community stunned. By all accounts, Carol was vibrant, well liked, outgoing and cheerful – making her murder all the more senseless. However, as the days drug by, more and more began to be revealed about Carol's darker side…and the many, many people who might have wanted her dead.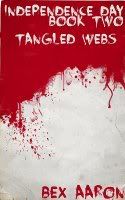 The killer is closer than they know…
Shane Marcette, with the Haven Park PD, has been faced with quite the challenge: putting his personal feelings for the victim aside to focus on her killer. Immediately, his suspicion went to Carol's philandering fiancé, ne'er-do-well Jeff Howard. Jeff, a charming small-time conman, vehemently proclaimed his innocence, despite the fact he's been unable to come up with a credible alibi.
Terri Englund, Carol's best friend from childhood, has also raised some eyebrows, especially given the company she keeps. Openly cheating on her husband Lance with drifter Lucas Brady, she butted heads with Carol on her lifestyle choices on more than one occasion. In addition, Lucas didn't appear to be a very big fan of Carol's either, and when told of her death, he hardly seemed moved.
"She had an opinion about everything, including you and me. She was too involved in other people's affairs for it to not come back to her at some point."
–Lucas, Chapter 2, Book One.
Postman Evan Blake, a man haunted by dark secrets of his own, has also come under suspicion through his strange behavior. Evan's obsession is his late wife Francine, a woman many are convinced he killed over ten years ago. As the anniversary of her mysterious death draws nearer and nearer, more is revealed about their relationship…and the manner in which she died.
"It's positively moving, isn't it?"
An unseasonable chill pierced the air as the words escaped her lips. She stood with her back to him, arms outstretched to the open water before her. She looked so beautiful…so free…so alive. A few steps behind her, he only looked on, as this was something he'd witnessed a million times before. For her, it was the very first time – and it was nothing short of magical.
The last, fleeting glimpses of sun danced over the water, while her blue and white polka dot dress swayed gently in the breeze. She raised a hand to stop her blonde hair from whipping about, and the giggle she let out resonated for miles. So carefree. She turned around to face him and smiled. "It's time to go," she announced abruptly. For a moment, he was puzzled by that statement. Go where? Back to shore? Home?
Before he could question, however, she took a deep breath in and pivoted back toward the water. His heart sped up, and in an instant, he knew precisely what she was about to do. "No!" he cried out. He wanted to leap forward, to grab her. To hold her in his arms and keep her safe…. but he couldn't move. He couldn't do anything but stare helplessly as she turned to face him one last time.
Her smile was gentle, her expression pleasant. "I'm already dying," she said simply.
And then she was gone. It wasn't a dramatic or purposeful jump, as far as he could tell. It was more as though she just casually stepped backwards off the boat… and he couldn't do anything to stop her.
Frozen in shock and terror, he studied her face carefully as she fell, searching for any clues as to why… but suddenly, it wasn't her face anymore. It was Carol Mathison's.
I'm already dying…
–The opening scene of Chapter 6, Book One.
Even the upstanding moral leaders of the community are not immune to deadly vengeance. It has been revealed that at the time of Carol's death, her fiancé Jeff was cheating on her with Julia Woodward, a pillar of the community and a very married woman herself. On the day she died, Carol confronted Jeff's friend (and one-time girlfriend) Marnie Blake on her apparent feelings for Jeff and gleefully let the secret of his affair with Julia out of the bag.
Carol raised an eyebrow. "Margaret. Don't bullshit me, honey. You and I both know that Jeff's a charmer. He brings you lunch – lunch he bought with my money, I might add! He tells you his problems. He tells you what a bitch I am, how much of a raging drunk I am, how much he wants to leave me… but he never will. Are you listening to me? I want to make sure you understand this. He never will! He's leading you on!"

With nary a parting shot, Marnie rose to leave, unable to bear one more unfounded allegation. She could hear Carol's laughter from behind her, and it only spurred her to walk even more quickly back to her seat. What a disaster.
Carol, likely grabbing one last chance to make a fool of herself, cleared her throat loudly and announced, "He's sleeping with Julia."
As much as she knew better, as much as she tried to convince herself not to fall for it, Marnie still whirled back around automatically. "What did you just say?"
"I said, he is sleeping with Julia." Coolly, Carol raised her coffee cup to her lips. "I take it he didn't tell you about that."

Marnie marched back over to the table, an irate finger pointed in Carol's direction. "Alright, you wanted a reaction? Well, you've got one! That is absurd! That is utter nonsense! Julia? What in the world are you talking about? Julia would never dream of doing something like that!"
Carol laughed in her face. "You've got shredded wheat between your ears, don't you? You just believe everything everyone tells you. Well, people do lie, Margaret, and you better wise up. You're getting played like a fiddle by both of those fools, and it's high time someone had the balls to tell you so." She paused, eyeing her up and down. "And you have the balls to put a stop to it. I'm only trying to warn you. Call it… friendly concern."

"We are not friends!" Marnie informed, through gritted teeth. "I'm not listening to any more of your nonsense, but for the record, no one is playing me! I know Jeff, just like I know Julia, and neither one of them would ever do such a thing. Julia is – "
"A cheap whore." Carol finished her sentence matter-of-factly. "She's nothing but a cheap whore. And I doubt you know her as well as you think you do, or you would've known that by now."
–Interlude: Fireworks (part one), Book One.
What's next?
The personal lives of Haven Park's most upstanding continue to carefully unravel in the second book, Tangled Webs. Julia's struggle to keep her affair with Jeff under wraps, as well as reconcile her feelings for him, begins to take its toll on her. Meanwhile, the actions of her clueless husband Brett being to make her wonder that maybe he's not so clueless after all!
Terri, herself torn between two lovers, begins to wonder if she really made the right choice by leaving Lance. After he fails to utilize a chance to ruin her, by letting her affair and drug addiction out of the bag, she realizes how deeply he must still care for her – but is it too late for resolution?
Just five days after Carol's senseless murder, another victim is discovered in Haven Park. At the crime scene, Shane meets Michael Goldman, a brash detective on loan from Laramie to "consult" on the cases. Michael immediately wins points with the police chief due to his aggressive ways, but Shane ends up pulling quite a coup out of his hat when he uncovers some of Lucas' many secrets!
—
Intrigued? Eager to figure it out? Download Independence Day, Book One from Smashwords for free. Book two is available for .99 for a limited time!
---
Want to win a copy of Book two? Then comment below as Bex is giving one free copy away each to two lucky commenters at every blog stop!
| [Did you enjoy this post?] |
| [Why not leave a comment or check out my books?] |