This last bank holiday Monday (25th) I had my first barbecue that I was (supposedly) in charge of. Needless to say, my mother took over quite a lot of it, including inviting the guests she wanted.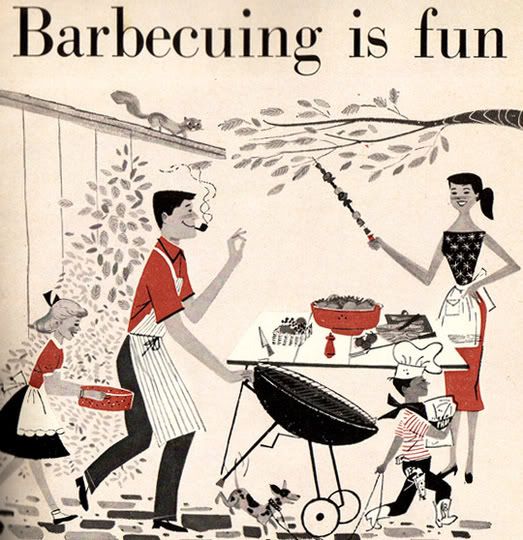 Now, I had experience of cooking, but no experience of cooking on a barbecue. The same goes for R, with perhaps a little less of the normal experience cooking. My mother had decided that (as the bloke) he was supposed to be in charge of the barbecue while I flit around after guests.
So you can already see exactly whose barbecue this was.
(And by that I mean, not mine.)
Anyway, it was quite a nice evening, despite the fact that my dad got drunk and had that one extra drink at the end of the night which makes him act like an idiot. My mum and I made some alcoholic jellies for the evening, too. These seemed to go down pretty well.
We didn't just stick to vodka jellies, though. We had orange jelly with blue curacao, blackcurrant jelly with vodka, and lime jelly with mojito. Making them was inebriating, too. My mum kept drinking the dregs of the cooled jelly mixture 'to test it'. This is probably why she spilt half of the mixture down the inside of the fridge when placing them on the shelves.
The spillage covered most of the beer cans, wine bottles and fizzy drinks we'd also put in there to cool off.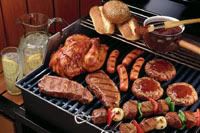 The barbecue itself was cooked at an amateur level as it was left to me, R and two of my friends and I was mostly absent trying to sort everyone else out too. This resulted in many pieces of food being accidentally dropped through the bars of the grill by one of my friends. He somehow managed to drop a chunk of corn on the cob through, too.
The cleaning up in the morning was not so much fun, but at least we survived the night and nobody got food poisoning.
So now I'm planning on relaxing and #amwriting some more of my WIP. (You see what I did there? I tried to keep you up to date with my WIP progress like I said in my Aspiring Writers Pledge.)
Did everyone else have a nice bank holiday weekend? Did you get up to anything exciting or fun?
| [Did you enjoy this post?] |
| [Why not leave a comment or check out my books?] |