I did say to myself that I would write a post yesterday, but by the time I got around to it I was just far too tired and for that I apologise. Maybe next year I will do a Hallowe'en/Samhain post on the day that it actually occurs. I know a lot of people, however, were out and about celebrating All Hallows Eve either with friends or relatives and some even privately.
I feel I ought to mention my friend Louise (or Ann-Louise if she's being really annoying) who was a part of the Edinburgh Samhain festival and was dressed up as a wolf with her clan to welcome in the Winter and say goodbye to the Summer. I may ask her if I can show off a picture of them on this blog so that you can all have a good look if you, like me, were unable to get to the celebrations.
Other lovely people told me that they were planning to spend the event trick or treating with either friends or youngsters. I must admit that we bedecked our house in all manner of Halloween paraphernalia (I do like that word).
Lots of children came around to our house and my mum sat in a chair by the door dressed as a witch. Quite a few of them thought she was a dummy at first and squealed when she moved, which was quite fun. I also dressed up for a short time (the proof is in the photograph), but the weather was so cold that after a few hours we, like most of the trick or treaters, gave up with the doorstep vigil and went inside to gorge ourselves on the wealth of toffee that my mum makes every year for the kids.
Other than Halloween, of course, the thirty-first marked the end of October. To me, this means I start using my next set of daily contact lenses, it's closer to bonfire night plans and, of course, R's birthday, but for others it means something terrifying, exciting and busy. Naturally, I'm talking about NaNoWriMo.
For those of you who don't know, NaNoWriMo stands for National Novel Writing Month which takes place over the course of November and is a competition/challenge held every year. The idea is to write a 50,000 word (at least) story within the month, which works out at 1, 667 words a day. I know people, like Malin Larsson (@tuesnordmalin), were sorting their last minute NaNo preparations last night and some were even panicking a little at the prospect of it, but I have to admit that I have the utmost respect for NaNo participants.
Whilst quietly thinking that you are all mad…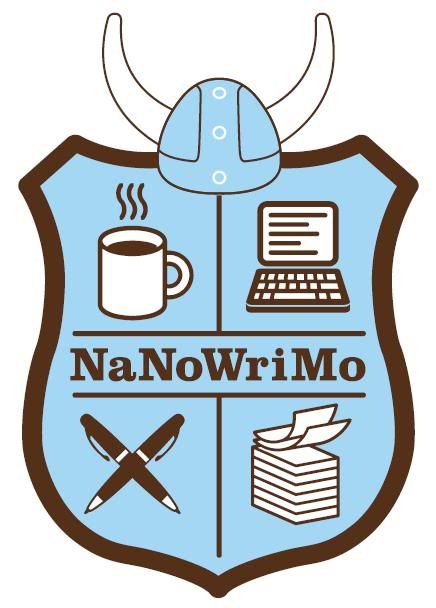 I know I couldn't write 50,000 words or more in just a month. I lack the time and discipline to do so. My writing is more about feeling psyched up and in the moment for particular pieces, which is why I dance around various projects such a lot (The Leaking Manuscript being a clear example of this). NaNoWriMo writers have to be dedicated to their stories and set out times to write. Unfortunately some of us haven't got the luxury of setting out times.
It certainly wouldn't work in my household where my mother frequently expects me to drop everything to do something before she gets irritable… and then she likes to complain about how I should just submit my writing and get published.
Because apparently it's that easy.
Obviously I'm being sarcastic and I won't continue this rant except to say that it would be a whole lot easier to submit my writing if only she'd let me have enough time to write and actually get it finished.
Anyway, I hope that all goes well for anybody involved in NaNoWriMo. Feel free to leave a comment if you are taking the challenge this year and share how you're planning to sort out your writing time – heaven knows I need some tips! I'd also love to hear how your Halloween/Samhain celebrations went and if you got dressed up. Yes, I'm very nosey, but I do love hearing/looking at other peoples costumes, too!
| [Did you enjoy this post?] |
| [Why not leave a comment or check out my books?] |