[ #OverByte ] I thought you might all like to see the two comics I provided for OverByte, an independent Game Maker magazine. The magazine has since been cancelled, but I'll go into that after I post the two comics I created for it.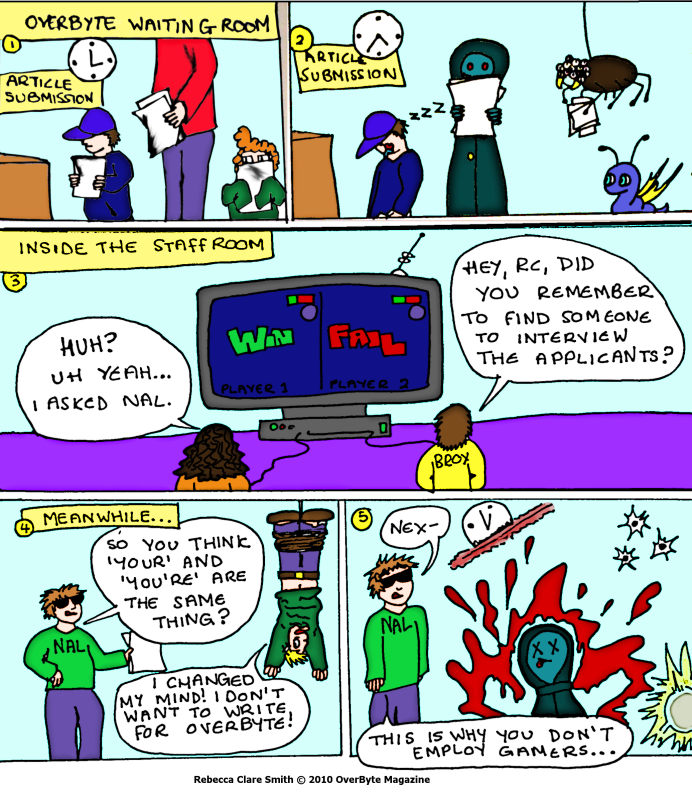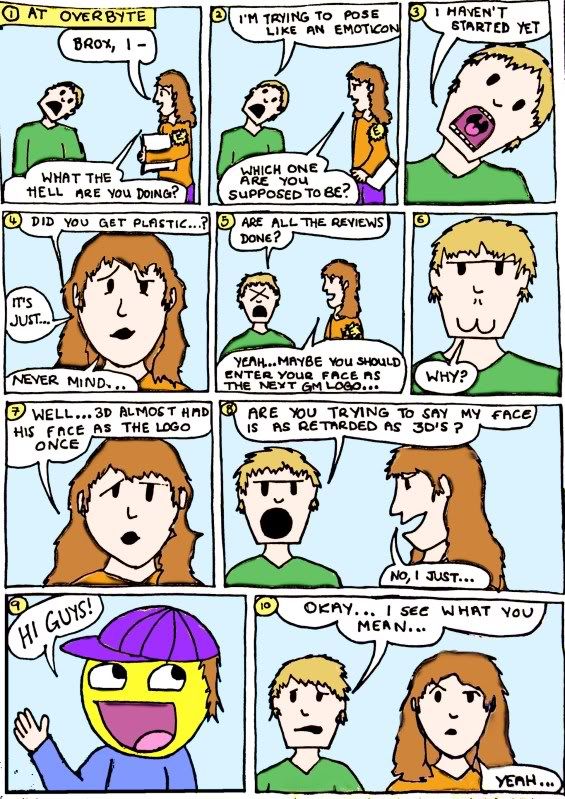 If you click the images, you will see them as larger versions where you can click again to zoom in slightly. They were drawn by hand and then ported to the computer using the document setting on my camera. Then I used GIMP (GNU Image Manipulation Program) to colour it in and add the extra thickness to some of the lines in order to make them stand out a bit more. It has an excellent cartoonify effect so it makes the black bolder and causes the slight smudging effect that you can see on some parts of the images. Anyway, the first comic was included in Issue 3 of OverByte (May Issue). The second was commissioned for Issue 4 that, as I type, was already supposed to be released.
However, the guy referred to as Broxter in the comic was not happy with it. He said that the comic was too controversial and would upset too many people. What he really meant is that he didn't take it as a joke (which is what it was meant to be – this is supposed to be a comic about the magazine, after all, so who else am I supposed to be light hearted about? Not to mention the fact that they had basically laughed at themselves in the first three issues anyway. I was just following the theme). The editor of the magazine, known as RedChu/RC (real name Greyson Wright), liked the comic but couldn't put it in as Broxter was the designer and thus he put all of the content into the correct format before it could be downloaded.
You may have noticed that I said 'was' instead of 'is' in the last paragraph.
There is a simple explanation for that. It is very likely that he will no longer be the designer. Greyson has quit as editor after he discovered that Broxter had blocked him on msn (windows live messenger) – you can find Greyson's resignation here: "OverByte comes to a stop". The blocking came a day after the deadline for the magazine. Broxter is the reason why the publication has been late for two months in a row. He has taken too long to get the necessary into the magazine when it has all been completed ready for the deadline. There are no other reasons why he should take so long except for laziness. I can't say I'm sorry that Greyson has left. Without him as editor, the magazine will fall apart because Broxter will not keep it going. He's too lazy and lackadaisical.
I feel bad for Greyson, personally, because he did a really good job on the website hosting OverByte and on the actual magazine. I also know that he was really proud of what he was doing. His future plans, however, seem to be sorted. I know what he intends to do now that he's quit OverByte and I wish him well with it. I'll probably update you about it in a future post and I may even help out if he needs me to. I'm sure it will be just as successful and widely appreciated by the independent game making community.
And I shall leave you with another of my drawings:
| [Did you enjoy this post?] |
| [Why not leave a comment or check out my books?] |